Transfauxmations
Shedding Skin
Snakes on a Bike may not become a major motion picture like its predecessor, but don't be alarmed if you see exactly that when traveling the highways. This skin-shedding tranformation from skulls to an albino python comes from the creative mind of Janie Gulick, owner of FauxBelle of Gulick Designs. SetCoat®, RsCrete®, FauxCreme Color™, Varnish Plus™ and the very popular Snakeskin StencilFX™ were all used to produce this eye-catching reptile replica. A final auto clear coating protects the finish. "That is one happy bike owner," says Janie. "Even die-hard Harley guys who would never own anything but black bikes think it's pretty cool."
Janie Gulick has been a trained decorative finisher based in the Atlanta, GA area since 2001, mainly producing wall, furniture and cabinet finishes. With her background in Graphic and Fine Arts, she is well-known for her proficient talent, professionalism and reliability; keys to her business success. Along with her fine finishes commissioned by homeowners, interior designers and businesses throughout the Southeast, Janie furthers her education, staying current with finishing trends through master workshops in the United States and Great Britain. She also takes time to give back to her Cherokee County community by serving on various United Way committees and boards, the Goodwill Woodstock Business Advisory Council and the Appalachian Technical College Interiors Advisory Committee where she works with student designs teams on a variety of local projects. When the Cherokee Family Violence Center opened its new location, Janie donated a room mural influenced by a painting done by a former resident of the center.
What's next for Janie? Who knows, but don't be surprised if you see more of her talent in the air, on land or at sea.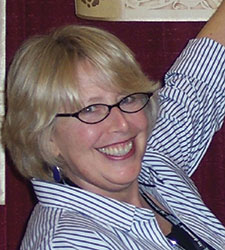 DECORATIVE ART BY: JANIE GULICK
PHOTOGRAPHY PROVIDED BY: JANIE GULICK
WRITTEN BY: JOAN SECKINGER
If you enjoyed this article, send
it to your friends on Facebook!