A Gold Mine In Finishing
Versatility is this Midwestern finisher's middle name as he transforms walls, furniture and canvas with a fine tune to detail. Dirk Van Vuren, owner of UnFAUXgetable Finishes in Brook, Indiana, creates artistic, unique finishes and custom construction, design and renovation projects. "I was trained to use Faux Effects® products at Faux Design Studio in Addison, Illinois," says Dirk. "I am most appreciative to Sheri Zeman and her team of professionals. Their training is extremely professional, and as questions arise in the field, they are always there to help with product information and application. Their passion as well as mine is the art of faux finishing."
This passion for faux finishing is reflected in this finish in an old bank vault in a commercial establishment in Lowell, Indiana. A circa 1903 bank building was converted into a hair salon with specialty areas. Dirk had free reign to design and convert the main vault into a well being treatment room. "The reason for transforming it into a gold mine was two-fold," explains Dirk. "First, I thought it would be amazing to walk through the 10" thick vault doors into a gold mine that had a faux escape hole at the top." He found this ironic on its own, because the walls and barrel shaped ceiling are 20" thick poured concrete, yet it would be very calming and pleasing to the eye as a treatment room.
Dirk further explains, "Second, it was to be a living tribute to my Dad. As a young man in my early twenties, my Dad took my brothers and me gold mining in Alaska for a couple of seasons, something I will treasure forever." The room took nearly 160 hours to complete, starting with SetCoat® as the base, glazes and using AquaStone® to build up areas for gold and copper veins, where variegated gold, gold and copper leafing was applied. Then, the finish was colored and aged using glazes of AquaCreme® with FauxCreme Color™ or Stain & Seal™ in Rich Brown, Golden Oak, American Pine and Natural Cherry. C-500™ was used to protect the finish, giving it the most durability.
Dirk's finishes have been applied in other commercial venues, including a kitchen display vignette in a busy Direct Buy Showroom. This area required something to entice shoppers to the area, and Dirk's handiwork around the stainless steel appliances and cabinetry does just this. He names many of his finishes; this one he calls "Ancient Metal," a crackled metallic application using MetalGlow®, SetCoat®, Designer FoilFX™, the AquaCrackle® system, Stain & Seal™ and C-500.
To add even more dimension, Dirk applied raised stencil embellishments to look like forged metal in random areas of the backsplash. Mars Red MetalGlow® walls provide a dramatic counterpart to this elegant treatment. A total of five layers of MetalGlow® were applied randomly with a small roller to create depth and movement to the bordering walls.
A "Sonoma" finish was applied in a doctor's office reception area, giving it a contemporary, zen-like feel—sure to bring tranquility to awaiting patients. Bronze and Copper SetCoat®,Viridian Green FauxCreme Color™, AquaWax™, Cinnamon MetalGlow™, Gold Mica Glow Powder™ and C-500™ Gloss were all used to complement the use of river rock stones and other natural elements in the room.
Dirk's finishes also are part of many residential homes. This dining room is finished using Brown SetCoat® as the base. Cocoa Chocolate LusterStone® was then troweled on the walls giving the room a luxurious, warm feeling. The soffits were treated with Harvest Gold MetalGlow®, harmonizing with the rich, brown walls. Bringing the eyes up, the tray ceiling was finished in "Portofino Twilight" by troweling on layers of Bronze, Copper and Gold Palette Deco™. Even though metallic colors of Palette Deco™ dry very shiny, Varnish Plus™ Gloss was applied as the topcoat to make the finish even more reflective.
A local photography studio was looking for different types of backdrops that could be changed easily to suit its variety of clients during photo shoots. Having canvases on multiple rolling mechanisms would provide for a trouble-free way to swap out one scene to another, but the products used would have to be flexible enough so as not crack when rolled up for storage. Dirk chose LusterStone® for this project because of its pliability on canvas. By hanging the canvases sideways during application, Dirk was able to apply various colors of LusterStone® evenly and quickly using small rollers and brushes. When dry, the canvases were attached to PVC piping and rolled up, making for an effortless transition from storage to studio.
Furniture finishes are Dirk's even finer fortes. Many of his pieces are completed using an assortment of Faux Effects® products, and some of his favorites include MetalGlow®, Venetian Gem® products, FauxCreme Color™, the AquaCrackle® system and C-500™. This chair, finished with various tones of MetalGlow® and FauxCreme Color™, was part of fundraising effort for the downtown historical district in Lowell, Indiana. Dirk says, "Local artists were asked to design and donate a chair to be auctioned off via a silent auction. I called mine 'The Butt Abyss.' The illusion on the seat is of a metallic jagged hole that you would fall thru if you sat on it. While time consuming to do, it was fun to see and hear the peoples' comments as they placed their bids. By the way, it took the first place prize!"
Recently, Dirk produced this 24-inch x 48-inch "God and Adam" gallery wrap using MetalGlow®, FauxCreme Color™ and AquaCreme®. Varnish Plus™ was then applied for protection. This fine art piece started with painting in the background and angles. From there, one-eighth-inch masking tape was applied over the canvas so that when the arms were painted in and then the tape removed, the arms would subliminally be intertwined in a web. Dirk explains his rendition of Michelangelo's masterpiece as, "Adam's arm is misshapen on purpose to show our imperfection as compared to an Almighty God that created the universe."
From when Dirk first started UnFAUXgetable Finishes in 2008 to present, his business has grown by leaps and bounds. His talents are evident, and he is quick to say that ongoing instruction and superior products aid his capacities. Dirk concludes, "The vast array of quality products available by Faux Effects International enables me to create without boundaries."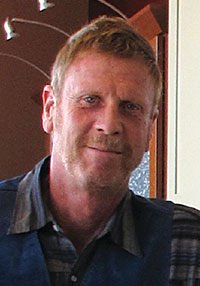 DECORATIVE ART BY: DIRK VAN VUREN
PHOTOGRAPHY BY: LORI A. CLARK, MAVLOW PHOTOGRAPHY & JEAN SWEET
WRITTEN BY: JOAN SECKINGER
If you enjoyed this article, send
it to your friends on Facebook!