"CREATIVE CORNER"
Jeannine Dostal, award winning decorative artist, took her vast knowledge of wall finishes and now has transformed them into sought-after artistic canvas work. A commission at a home on Keystone Mountain in Colorado got the whole transition started and she has never looked back. This mountain home project included various wall finishes for several rooms in addition to her canvas work. Knowing her artistic talents from previous decorative projects, the client wanted Jeannine to paint aspen trees on canvas for a focal point above their fireplace mantle. Traveling about the charming mountain village, scoping out the local art galleries, there were tons of aspen tree paintings to use as her motivation, but nothing truly inspired her. "I didn't just want to copy any painting, so I suggested they just purchase an aspen tree painting they liked," explains Jeannine. The clients insisted on having a unique and original piece of Jeannine's artwork. The pressure was on!
Back home at her studio in Cincinnati, Ohio, Jeannine tried to come up with ideas. "I had this project hanging over my head like a big heavy cloud," she says. Finally, she decided to just "wing it." Using her free flowing spirit and art techniques, Jeannine created her own vision of contemporary Aspen trees. "It worked! The client loved the sample and gave me a deposit!" This was the introduction into Jeannine's canvas art.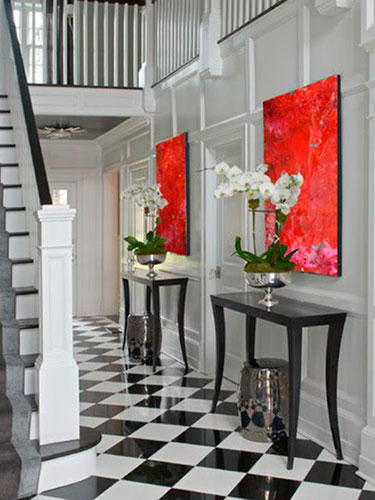 Since then, Jeannine's work has been featured in numerous galleries from Cincinnati to Miami. In many of her private gallery showings, her pieces have sold out in one evening! "I have plenty of commissions on my schedule and virtually all canvas work now. I call my technique the 'Art of Allowing' since I allow colors to flow and the art creates itself." Jeannine uses many Faux Effects® products in her artwork, including FauxColor™, FauxCreme Color™, O'Villa® and SandStone™ to name a few. "I pretty much start each painting with a messy layer of Off White SetCoat®." From there, Jeannine embellishes her work with all kinds of "goodies," such as sand from Siesta Key Beach, Mica Glow Flakes™ and LusterStone®. "Anything with shimmer!" Her art pieces are coated with up to three coats of resin for the ultimate sheen. "I work totally wet on wet, and I enjoy creating every single painting! And, no painting can be duplicated—not even close—which is something kind of special."
Jeannine's talent has been recognized in the art community by the following: People's Choice Award from the Art Design Consultants of Cincinnati, Emerging New Female Artist of the Year for 2014 and a Solo Show at the Cincinnati Opera's Art Gallery. She is the author of Spectacular Walls and has been noted in many of Prismatic Studio's, renowned decorative finisher, Gary Lord's, faux finishing training guides and videos.
"I took the challenge [decorative finishing] and ran with it! Twenty years and a terrific career later, I am still going strong! My finishes have made it to canvas work, and I am so excited to see what's around the next creative corner for me!"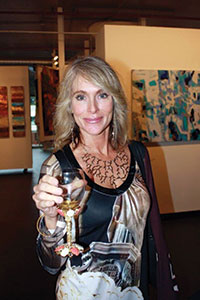 DECORATIVE ART BY: JEANNINE DOSTAL
PHOTOGRAPHY BY: JEANNINE DOSTAL
WRITTEN BY: JEANNINE DOSTAL
If you enjoyed this article, send
it to your friends on Facebook!